Turkish-Muslim charities, Kimse Yok Mu and Embrace Relief Foundation, have jointly constructed a water well in Uganda dedicated to the memory of James Foley, an American journalist killed by ISIS.
John Foley, father of the murdered journalist, attended an award-giving ceremony to introduce the opening of the well. "Jim has received many awards recently for his courage, his commitment, and his compassion but I can't think of a more appropriate acknowledgement of his life than this well." said late journalist's father.
Stating that his son had always worked for the good of others, Foley continued: "I can't tell you how wonderful a gift of a well is, because it brings life to so many who have so little and this is all what Jim is about." Emphasizing the significance of a Muslim organization to honor his son's legacy, Foley said: "I can't think of a more warm and meaningful evening than this in which love has been stressed as a guiding principle for our international dealings and faith in God, whomever you wish to call it – Muslim, Catholic, Protestant, Baptist."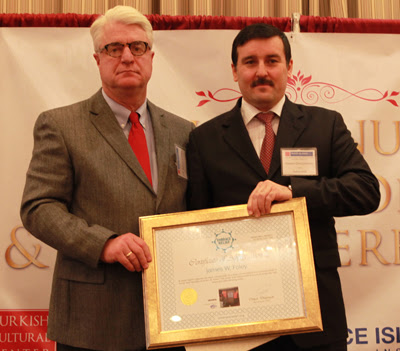 At the event, New Hampshire Governor, Maggie Hassan, expressed her gratitude to the Embrace Relief and Kimse Yok Mu and thanked them for the well. Osman Dulgeroglu, the CEO of Embrace Relief stated that the terrorist acts of ISIS are a disgrace to the faith they proclaim and are crimes against humanity. "Our Muslim donors have thought that dedicating a water well, a source of life, to the memory of late journalist James Foley would be an excellent way to show support for our shared commitment to human life and to denounce the atrocities of ISIS." said Dulgeroglu.
The well, constructed with the support of Istanbul based Kimse Yok Mu and US based Embrace Relief, will supply clean drinking water to 2,000 Ugandans.
Foley had been working as a freelance journalist covering the Syrian civil war when he was abducted by ISIL forces in November of 2012. He was not heard of again until a video of his beheading emerged in August of this year, with his captors explaining that the act was carried out in response to American airstrikes against ISIL.
About Embrace Relief
Embrace Relief is a 501 (c) (3) non-profit organization based in the US that brings together teams of volunteers to collaborate on humanitarian aid and disaster relief efforts. These teams provide an array of support, offering to assist financially, emotionally, and physically with families in need and with families and communities ravaged by disaster. The foundation collects for, delivers and distributes supplies and resources to families, individuals and institutions.
About Kimse Yok Mu
Kimse Yok Mu (KYM) is a nonprofit humanitarian aid and development organization based in Istanbul, Turkey and active in 113 countries. KYM focuses on disaster relief, humanitarian aid and education of vulnerable populations, accessible health care and cataract surgeries, post-conflict/post- disaster development, capacity building, and increasing access to clean water. Holding consultative status of the United Nations (UN) ECOSOC. KYM is also a solution partner of the UN.